Promote Portable Flange Facer EFF610
Portable Flange Facing Lathe Machine better perform facing, beveling, and turning pipe, valve and flange surfaces from Ø80mm to Ø610 mm.
The Flange Facer EFF610 is rugged, compact and ideal for quickly reconditioning rusty, scarred or worn flange gasket seats to like-new condition in minutes. Internally mounted, facing from 80mm(3.15″) to 610mm(24″) and features 2 continuous feed rates.The mounting base come in three sizes and have micro-adjustable jaws to help quickly align the base during set-up. Air motor and Servo motor are optional. The flange facing machine can machining standard FF and RF flange facings, RTJ and other V grooves, weld reparations, etc. The EFF610 Flange Facer are suitable for the oil and gas industry, power plants, chemical plants, oil rigs and many others.They are prepared to implement applications complying with ASME standards.
KEY FEATURES
◎ High-precision NSK bearings and "V" linear guide make the machine precise and robust
◎ Modular designed, compact and portable
◎ Internally mounted and operates in any orientation
◎ Suitable for various flange types: flat face; raised face; ring type joints(RTJ);tongue & groove; lens ring;compact flanges
◎ Air motor and servo motor are optional
◎ 2 continuous groove facing feeds for a gramophone finish (ASME Standard)
◎ 3 different sized quick set independent bases for improved on-site operation
◎ 360°Swivel tool post for groove details
◎ Sturdy storage
Facing Diameter: 80-610mm ( 3.15″ – 24″ )
Clamping Diameter: 59-570mm ( 2.32″ – 22.44″ )
Tool Post Stroke: 40mm (1.57″)
Tool Post Swivel Angle: +/- 30°
Power: Pneumatic, Servo motor optional
RPM: 0-45 RPM
Power-Pneumatic: 1.2hp (0.8kw)
Air Consumption: 1.2m³/min
Power-Electric: single phase, 220v. 780w
Case: 67cm*45cm*40cm
working Weight: 63.5kg
Shipping Weight: 84.5kg
1. Install the proper base to the inner hole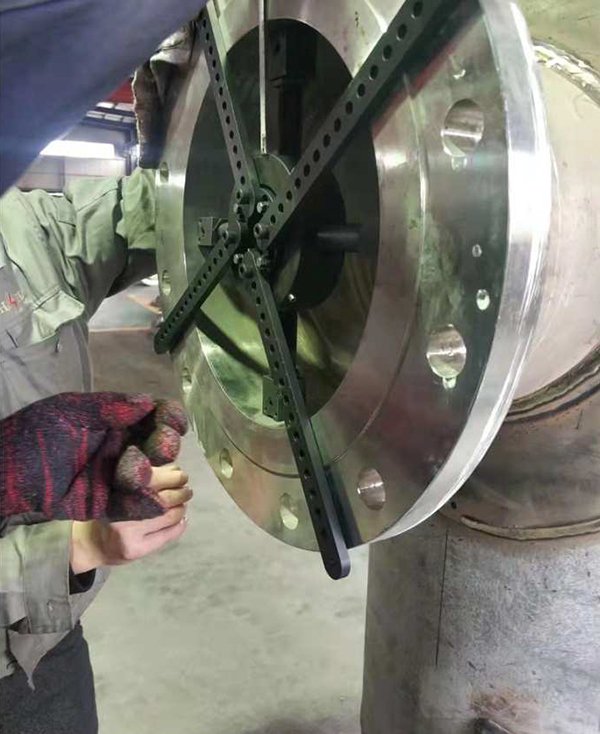 2. Install and align the machine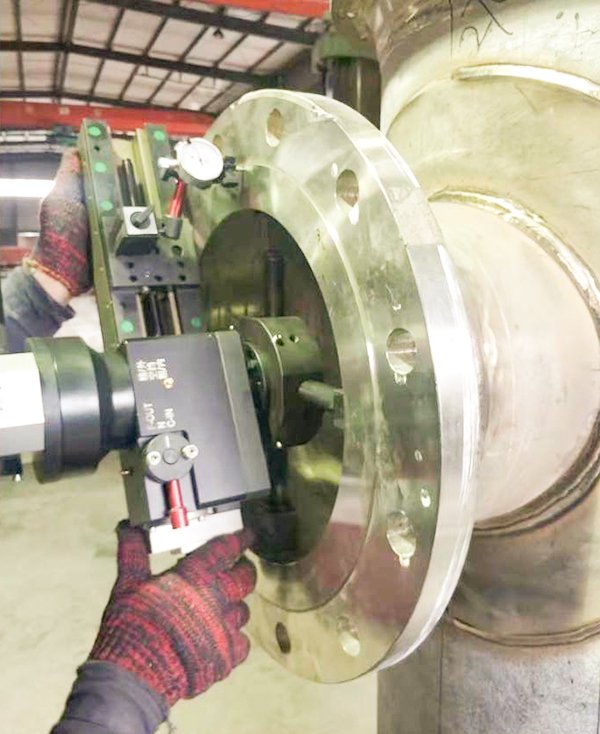 3. Machining the flange facing & grooves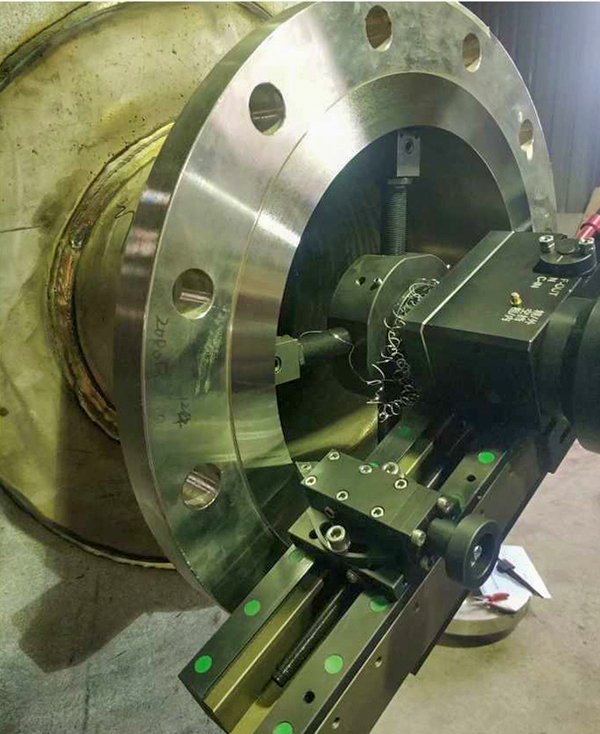 4. Testing & Antirust treatment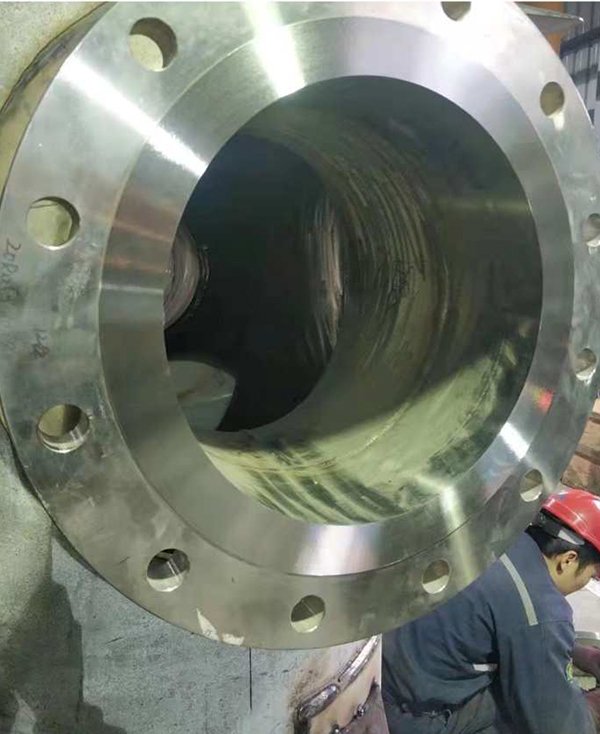 Why choose EFF610 Portable Flange Facer
1. Easy to setup and operate; the feed is variably adjustable.
2. Lightweight: the working weight only 45kg. One operator can set it up and work easily.
3. Internal mounted, lightweight and robust flange facing machine
4. Multifunction flange facing lathe machine capable perform flange facing, seal grooving and weld preparation.
5. The EFF610 is very similar to Mirage flange facer MM610i, however, it is much cheaper than Mirage flange facing machine.
6. EFF610 machine achieve shop accuracy, combined with ease of handing and portable in the flange range.Spur gears engage directly on the drive ring, keep power requirements and losses to a minimum and allowing maximum torque at the cutting tool. When the machine is used in the vertical plane ,The balance is greatly reduced.