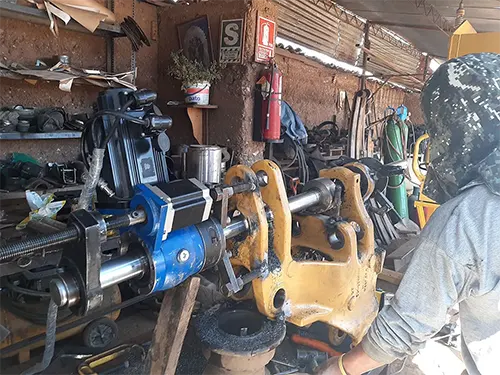 SLB50 PORTABLE LINE BORING MACHINE​
SLB50 Portable Line Boring welding Machine makes on-site line boring operations much more faster and easier.
SLB50 Provides multiple boring bars (diameters*length): 50mm*1600mm-1pc; 50mm*700mm-1pc (300mm+400mm) Adapts quick attach bar system convenient for tight space usage; 30*1200mm-pc for repaire small holes.
Inner bore welding (overlay welding ) attachment as standard kits. SLB50 Portable Line Boring Overlay Welding Machine Support Europe type, Panasonic type and Miller Mig welder.
Facing tool comes with SLB50 as standard kit. You don't need to buy extra kits, SAVING MONEY
Compare to climax BB5000, SLB50 can do inner bore welding operations, however BB5000 can not. SLB50 is more affordable than BB5000. of course SLB50 line boring kits is a new brand not so famous like BB5000.
ELB40 Portable Line Boring Machine
ELB40 Portable line boring machine is the original designed by China and for  repairing/rebore holes in heavy construction equipment such as cranes, excavators, bulldozers, tractors, backhoes etc.  It can be installed horizontally and vertical .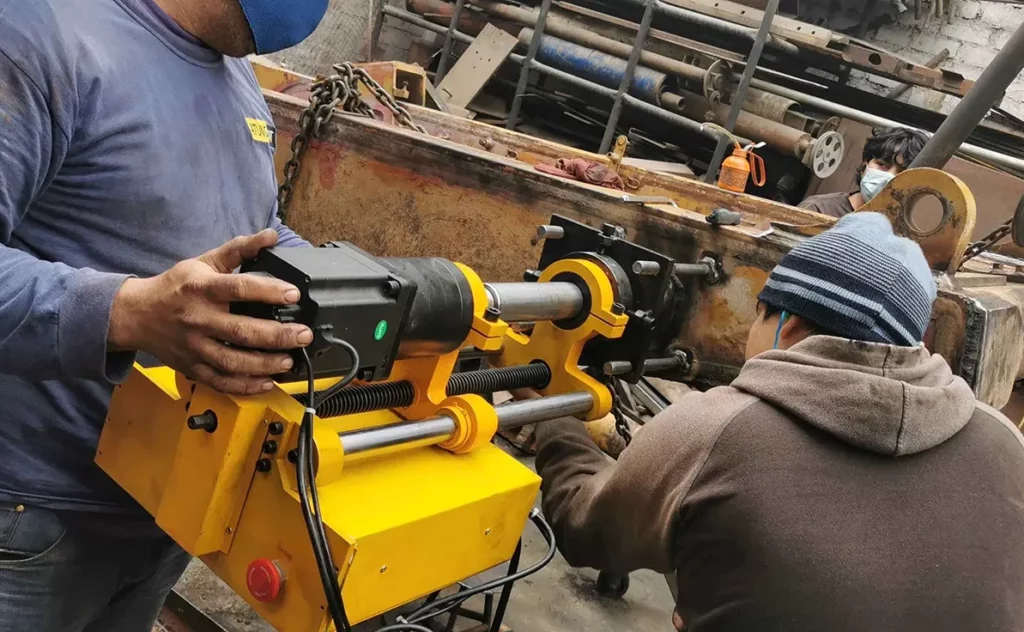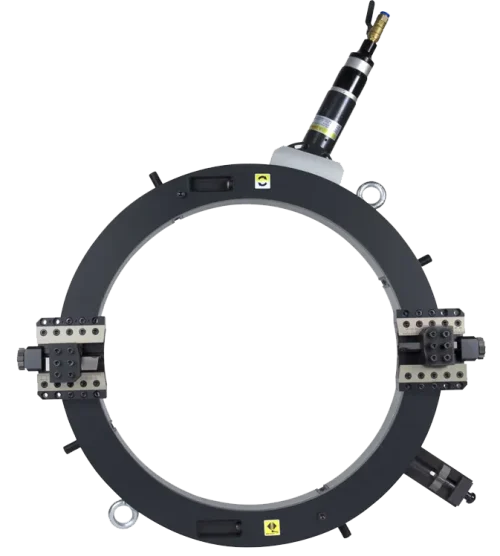 Pipe Cutting Beveling Machine
The series machine is ideal for all types of pipe cutting & beveling and end preparation. The split frame design allows the machine to split in half at the frame and mount around the OD of the in-line pipe or fitting for strong, stable clamping. The equipment performs precision in-line cut or simultaneous cut/bevel, single point, counterbore and flange facing operations, as well as weld end preparation on open ended pipe, Working Range from 2" to 48" O.D.(DN50-1200), on most wall thicknesses and material.
EBTP100 BUSHING & TRACK PIN PRESS
EBTP100 portable bushing & track pin press are designed to make field service, or shop repairs, as easy as possible to quickly bring equipment back into service. With simple setup, repair times are shortened, allowing operators to perform service calls quickly and efficiently. The portable bushing & track pin press is a handy addition for removal and installation of track pins and bushings.
Buying directly from the manufacturer means fast response time for service and maintenance parts and second-to-none customer support.
Multifunction – Ideal for effectively removal and installation of Bushings and Track Pins.
Portable – Portable for in field repair
Double acting hydraulic cylinder for one-stroke removal or installation
SAFE – Eliminate dangerous removal methods.
Cost Effective – Reduced labour hours.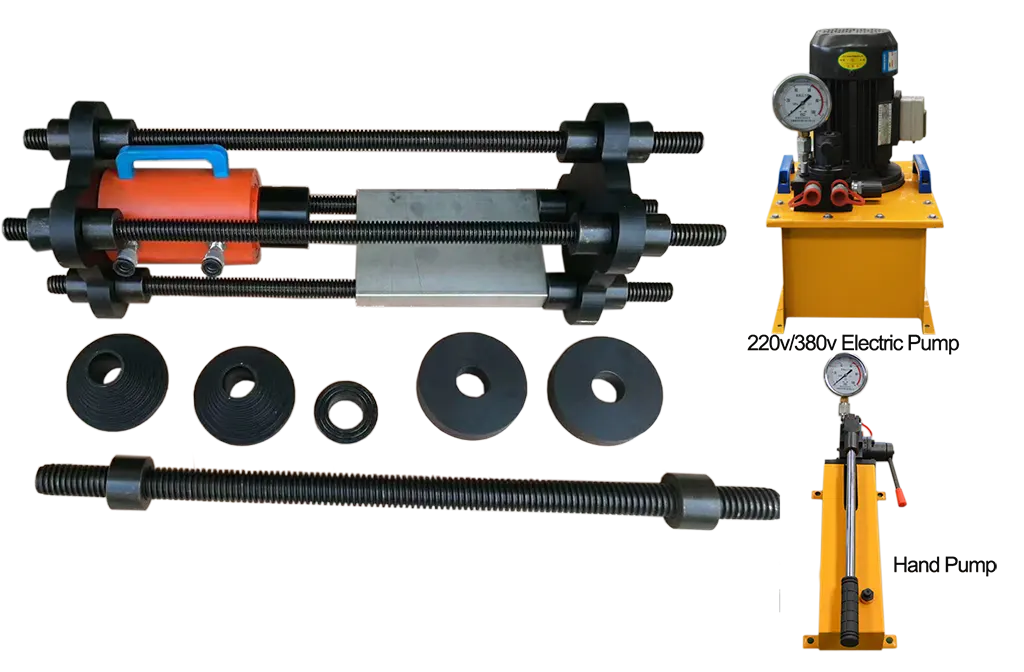 PSL300 PORTABLE SHAFT LATHE
PSL300 Portable Shaft Lathe is a precision machine tool engineered to re-turn large shafts and roll journals.
EFF610 PORTABLE FLANGE FACER
EFF610 portable flange facer is a versatile flange facing machine that allows you to face, bevel, and turn pipe, valve, and pump flanges with easy, and can give machine shop accuracy. The three-piece mounting system makes setup and alignment of this machine quick and easy. It allows one operator to easily set up the machine and begin machining in just a few minutes.
Lightweight – The machine main body only weighs 45kg
Easy Setup – Modular design, easy to setup. All centering and leveling is done on the chuck.
Safe and Quiet – Stationary feed rate selector. Machine is controlled without touching any moving parts. Exhaust air is routed through body of machine for increased muffling.
Multifunction -Compound tool head and down-feed for cutting angles and grooves.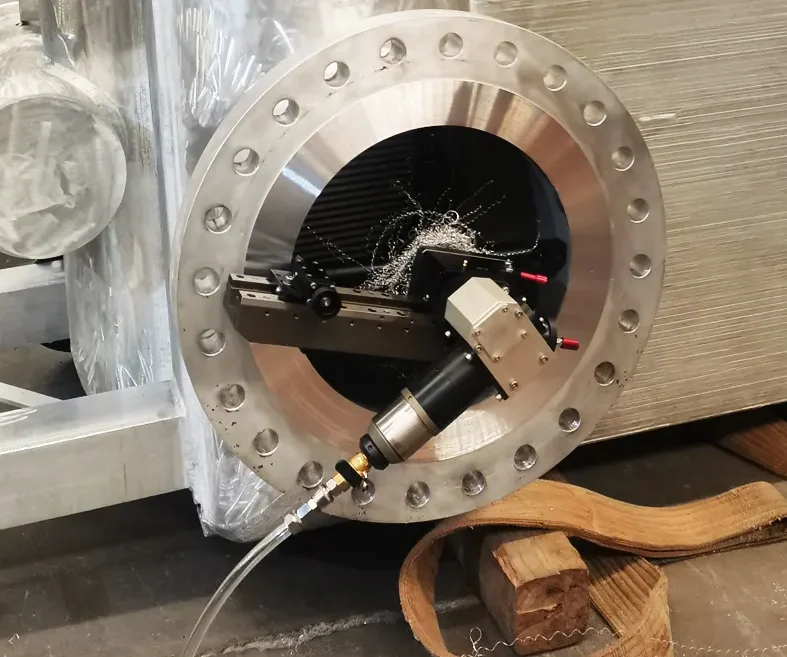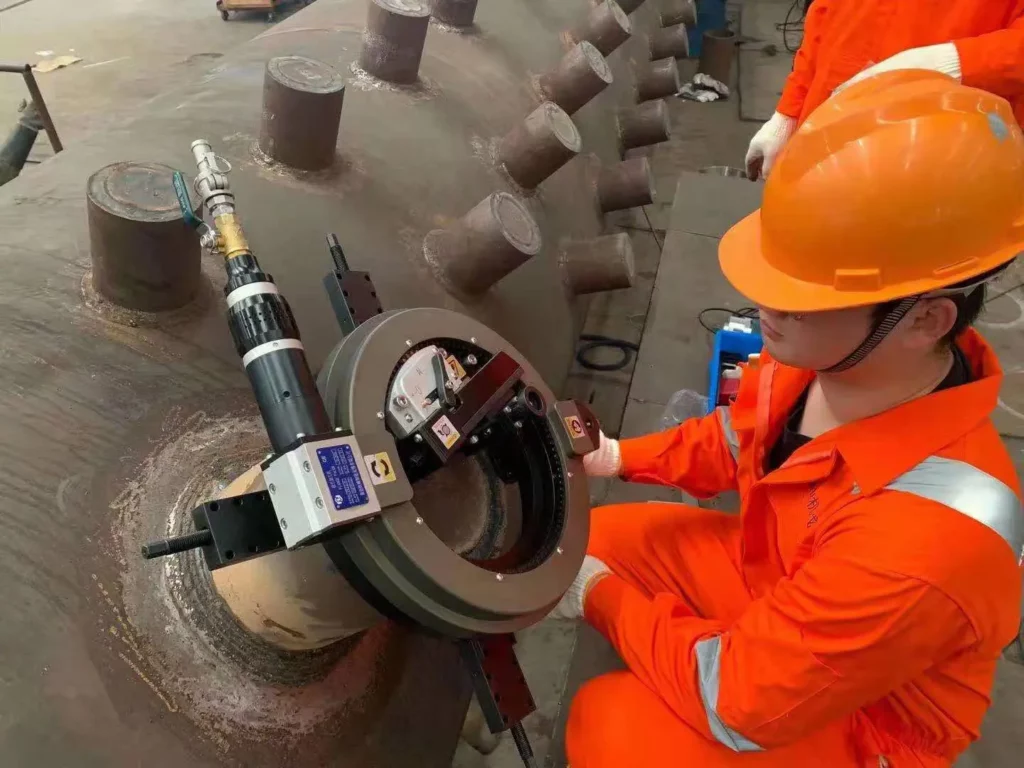 EMF300 OD Mount Portable Flange Facer
The EMF300 flange facing machine is designed to perform various machining operations on a circular workpiece, such as a flange. An externally mounted robust flange facing machine using fixed gears to produce continuous groove gramophone finishes to ASME Standard.
Precision construction- Preloaded cross roller drive, ensuring robust, repeatable machining
Geared continuous groove facing feeds for a gramophone finish (ASME standard)
Quick-set integrated clamping jaws
Swivel tool post
EFF1000 flange facer is a versatile flange facing machine that allows you to face, bevel, and turn pipe, valve, and pump flanges with easy, and can give machine shop accuracy. The three-piece mounting system makes setup and alignment of this machine quick and easy. working range from 153mm(6″)to 1000mm(40″)and features 6 continuous feed rates.
High-precision NSK bearings and "V" linear guide make the machine precise and robust
Internally mounted and operates in any orientation
Suitable for various flange types: flat face; raised face; ring type joints(RTJ);tongue & groove; lens ring;compact flanges.
Air motor and servo motor are optional.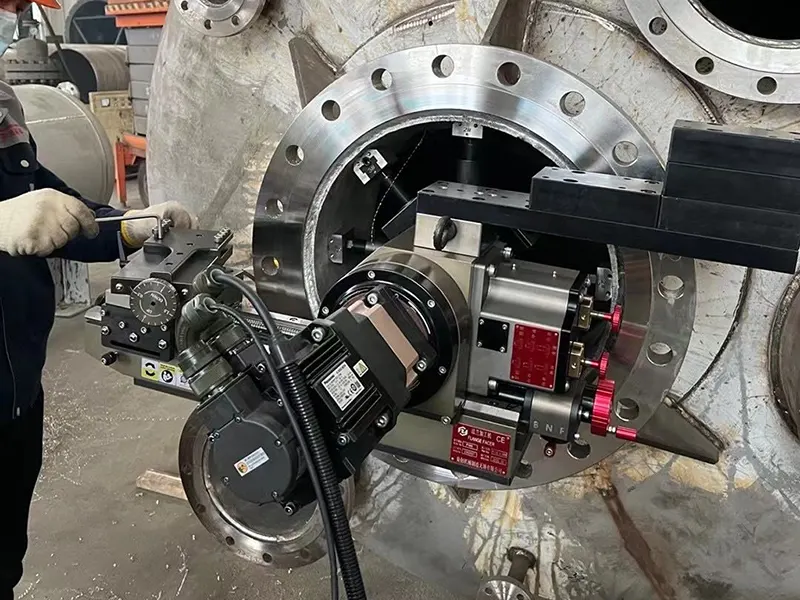 MMF350 ID Mount Manual Flange Facer
The Manual Flange Facer MFF350 is rugged, compact and ideal for quickly reconditioning rusty, scarred or worn flange gasket seats to like-new condition in minutes. This easy to operate flange facing tool is perfect for re-facing raised-face and flat-faced flanges on site or in a fabrication/repair shop. The MFF350 Flange Facer has a clamping range from 1.07″ to 10.63″ (27.2-270mm) and can machine flanges with a reach up to 14″ (355.6mm) O.D.
EZLINK PORTABLE (EZ) designs and manufactures portable machine tools with best quality parts & material, durable and field-proven technology, for which moudular technology eases and enhances the operations for workers. You can work safely and efficiently, with unparalleled performance in production contexts where short deadlines are required.Currently we offer portable line boring welding machine, portable flange facers, portable pipe cutting and beveling machines, portable shaft lathes, and Portable bushing & track pin press, etc.Innovation— We are constantly innovating in the manufacture of portable machine tools, ensuring both accuracy and safety for operators.
Quality— Since its creation, EZ has relied on its high standard of quality, both in terms of products and services thanks to a highly qualified multidisciplinary team.
Technology— From design to production, EZ works with digital and computing technologies, allowing our specialists to work efficiently with powerful tools.
Flexibility— Equipped with stationary and mobile machining equipment, our customers can work in the factory or in the field in order to complete projects as efficiently as possible.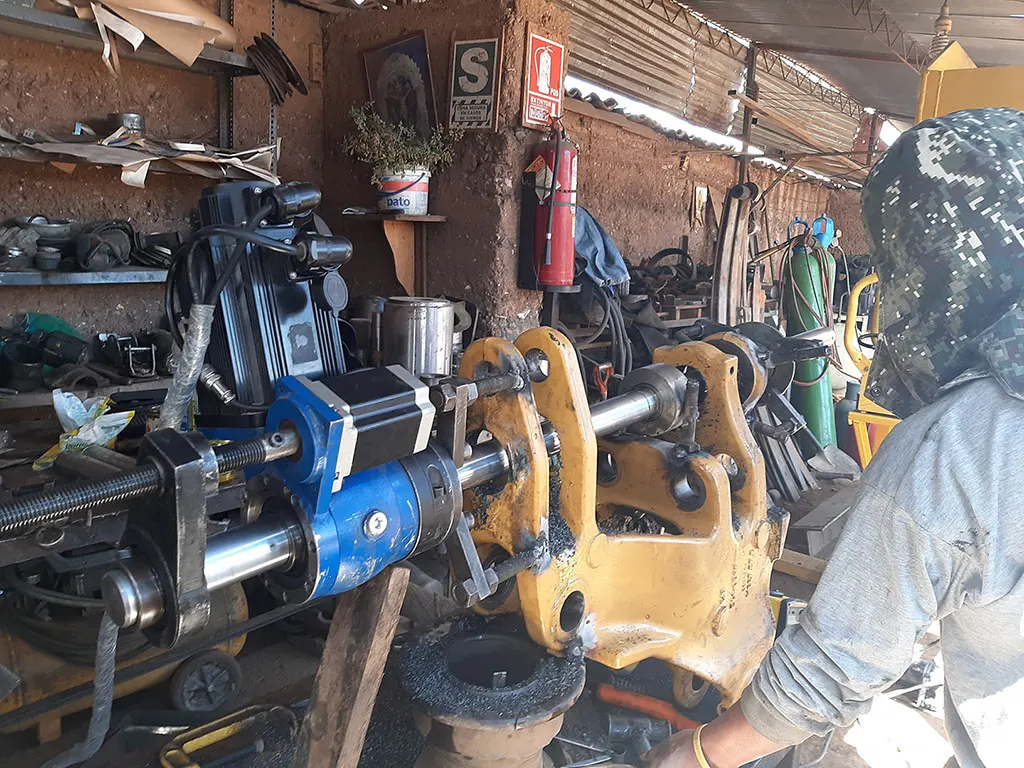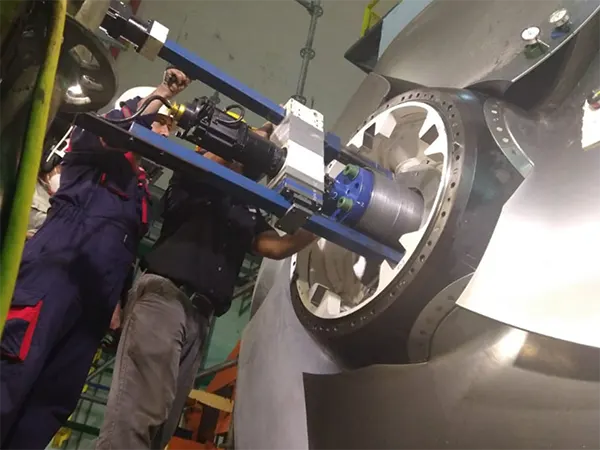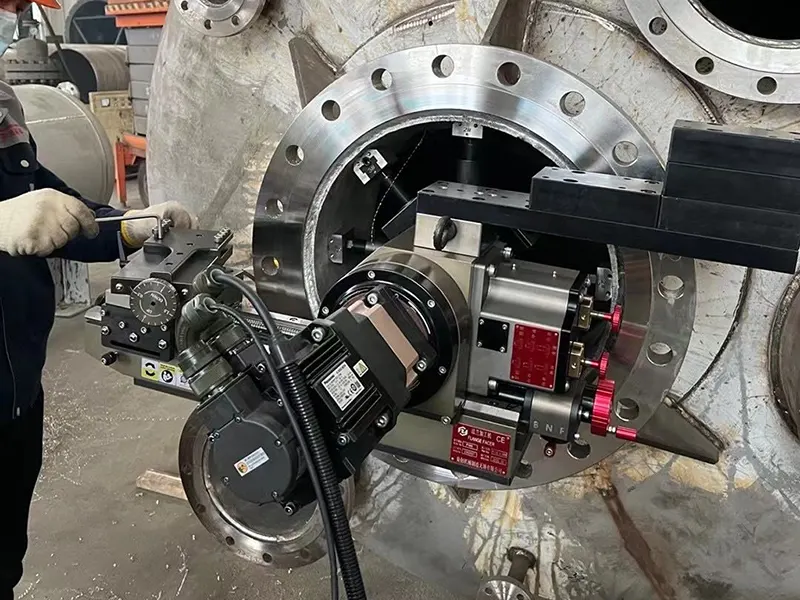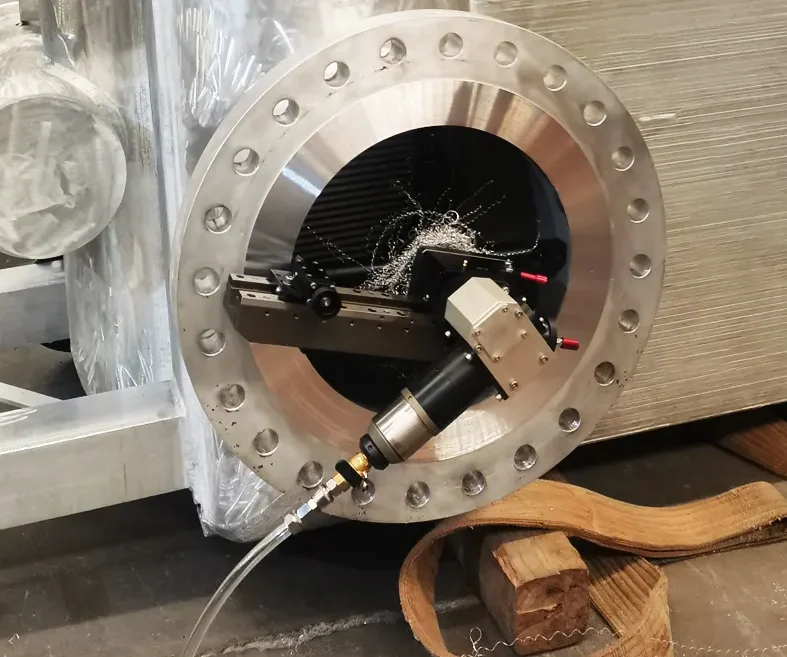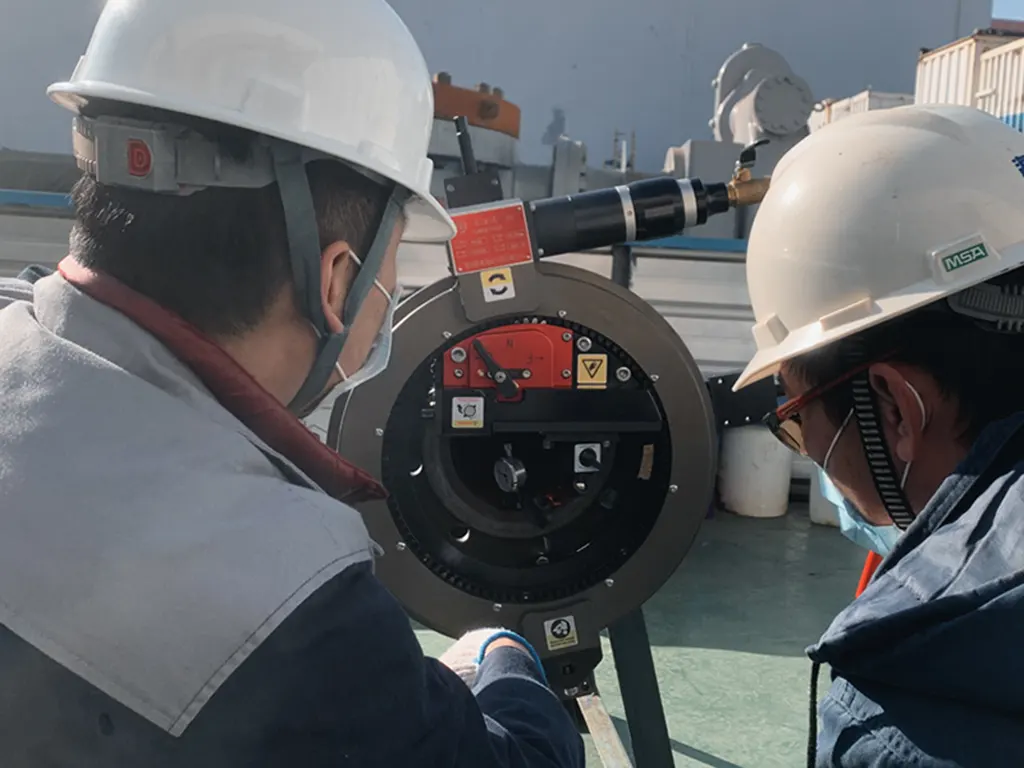 Frequently Asked Questions
Pay Attention
Always examine the machine before signing the Bill of Lading and unloading a machine. If there is minor shipping damage such as a scratch or dent please write that on the Bill of Lading so if it turns out to be more serious a damage claim can be made. If there is major shipping damage please refuse the machine. Don't let the trucker pressure you into accepting a damaged machine without writing it down on the Bill Of Lading. If you do not follow these instructions, we probably cannot help you with a shipping damage claim.
Essa máquina é muito top, me interessei pelo equipamento!!!!
That little machine is amazing and so versatile. Love to see old beat up rusty things shinning like new. Great work as always. Cheers mate!!!
Very nice setup. Totally meet my needs.
Nice chip. Good solid setup. I did some line boring and welding for my shop years ago. Always found it to be an enjoyable and interesting process. Unlimited application for repair. Thanks for the hi quality vid!