70 Tons Portable Hydraulic Bushing press Tools EBK70
Portable hydraulic bushing press  can greatly save time and labor to remove and install bushings on heavy construction equipment.
EBK70 is a tool that has evolved from a need. The need for a tractor to be able to remove, repair & install remove and install truck, excavator,backhoe, bulldozer, loader bushing quickly and easily. Its compact size, ease of operation, and safe design make it a preferred choice in the field. It's been said that 50% of operating costs of track driven equipment come from the undercarriage. Invest in a tool that will minimize your downtime, and benefit your bottom line.
EBK70 bushing extraction tool kits provide a lightweight, in-situ, time and labour saving solution for the bushings repair.
Bushings removal can be a dangerous and laborious process, often requiring heat and excessive repeated force. The EBK70 portable hydraulic bushing press is designed for the safe, efficient, and cost effective removal of Bushings.
Cylinder Thrust: 70T
Stroke: 100mm
Oil Cylinder Diameter: 50mm
Compression Bushing Diameter Range: 60mm-120mm
Maximum hand force of manual reversing pump: 50KGS
Working pressure: high pressure: 0-63mpa; low pressure 4Mpa
Working flow: high pressure flow 7ml/time; low pressure flow 50ml/time
Oil tank capacity (L): 5L
Oil: #46 Hydraulic Oil
Power: 1.5kw 220v-50hz single phase electric pump/1.5kw 380v-50hz three phases electric pump
Working pressure: 0-63mpa
working flow: 1.2L/min
Tank capacity (L): 16L
Oil: #46 Hydraulic Oil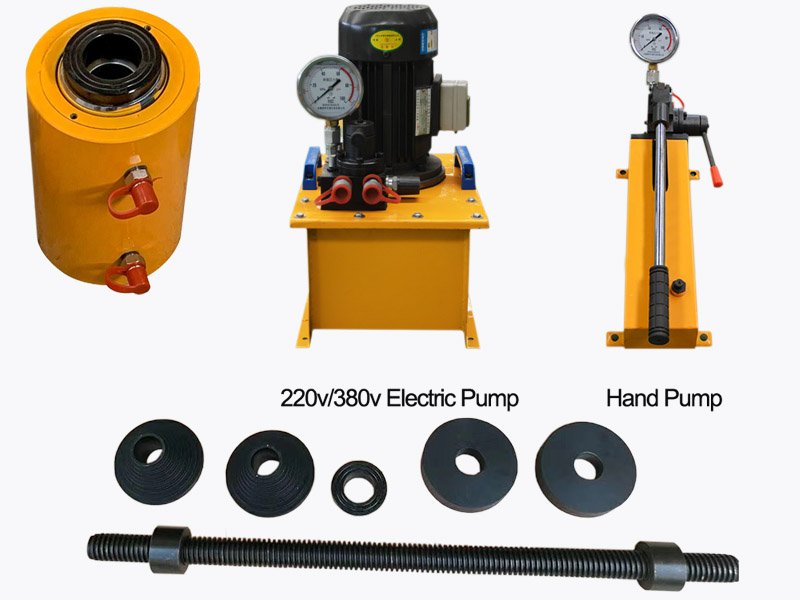 Why choose EBK70 Portable Hydraulic Bushings Press
1. EBk70 Portable Bushing Press is designed to make field excavator bushing replacement operations easier and safer.
2. hydraulic cylinder for one-stroke removal or installation.
3. Portable for in field repair.
4. Eliminate dangerous removal methods.
5. Two types of power to choose: Electric pump and Hand pump.
6. If you service equipment larger than this press can handle, feel free to contact me.