OD-Mounted Pipe Cutting Beveling Machine
Our Pipe Cold Cutter is a low weight machine for cutting and beveling. It is a spilt frame for fast OD mounting. It is easy to clamp and adjust to the pipe. The EZ CSF requires a minimum of space around the pipe and is delivered with electrical, pneumatic or hydraulic motor. The machine body can be constructed with steel and aluminium. Machining range from 0" up to 60" O.D.(0 – 1524 mm)
Our Pipe Cutting Beveling Machine will be your most useful tools.
The OD Pipe cutting beveling machine is ideal for all types of pipe cutting, beveling and end preparation.
The split frame design allows the machine to split in half at the frame and mount around the OD of the in-line pipe or fittings for strong, stable clamping. The equipment performs precision in-line cut or simultaneous cut/bevel, single cut/bevel,single point, counterbore and flange facing operations, as we ll as weld end preparation on open ended pipe, Ranging from 3/4 to 56 inches O.D.(DN20-1400), on most wall thicknesses and material.
To meet different customers unique requirements, we offer customers choice to use steel body and aluminum body.
And the power source could use metabo electric motor, pneumatic, hydraulic pack.
If the pipe wall thickness more than 30mm, inform us in advance (Important), we will advise you the proper power option.
Specifications
17 sizes pipe cutting beveling machine for options. Consult with us for special size. For narrow working condition, pay attention to the axial and
radial clearance.
| Model | Working Range | Wall Thickness |
| --- | --- | --- |
| CSF6 | 50-168mm | ≤30mm |
| CSF8 | 50-230mm | ≤30mm |
| CSF10 | 114-275mm | ≤30mm |
| CSF12 | 168-325mm | ≤30mm |
| CSF14 | 219-377mm | ≤30mm |
| CSF16 | 273-426mm | ≤30mm |
| CSF18 | 300-457mm | ≤30mm |
| CSF20 | 355-508mm | ≤30mm |
| CSF22 | 400-560mm | ≤30mm |
| CSF24 | 457-610mm | ≤30mm |
| CSF26 | 508-660mm | ≤30mm |
| CSF28 | 550-715mm | ≤30mm |
| CSF30 | 600-762mm | ≤30mm |
| CSF32 | 660-813mm | ≤30mm |
| CSF36 | 762-914mm | ≤30mm |
| CSF42 | 914-1066mm | ≤30mm |
| CSF48 | 1066-1230mm | ≤30mm |
ORDER GUIDE
Before you place order to us, please let us know the following information:
Choose the right size
Advise us the driven options: Pneumatic, Electric or Hydraulic
Advise us steel body or aluminum body prefers
Confirm the beveling angel required
Confirm the welding joint required (U, V, Double V or Compound preparation)
Advise your pipe material (Carbon steel, stainless steel or others)
Other special demands about machine
The spare parts needed
If the pipe wall thickness more than 30mm, inform us in advance (Important)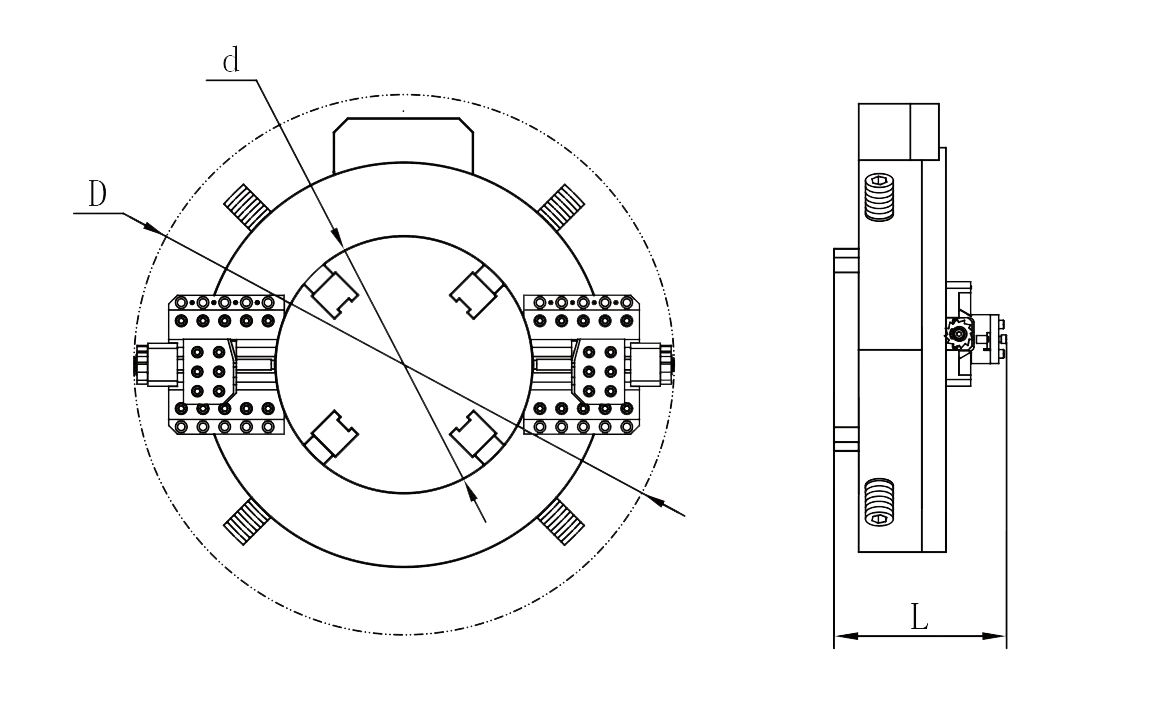 STEEL BODY
| Model | d (mm) | D (mm) | L (mm) |
| --- | --- | --- | --- |
| CSF6 | 185mm | 512mm | 178mm |
| CSF8 | 236mm | 564mm | 178mm |
| CSF10 | 283mm | 612mm | 178mm |
| CSF12 | 334mm | 665mm | 178mm |
| CSF14 | 386mm | 719mm | 178mm |
| CSF16 | 438mm | 776mm | 180mm |
| CSF18 | 469mm | 807mm | 180mm |
| CSF20 | 519mm | 862mm | 190mm |
| CSF22 | 570mm | 910mm | 190mm |
| CSF24 | 618mm | 960mm | 190mm |
| CSF26 | 670mm | 1020mm | 190mm |
| CSF28 | 719mm | 1084mm | 190mm |
| CSF30 | 770mm | 1134mm | 190mm |
| CSF32 | 830mm | 1194mm | 192mm |
| CSF36 | 924mm | 1296 | 212mm |
| CSF42 | 1077mm | 1468mm | 212mm |
| CSF48 | 1248mm | 1646mm | 212mm |
ALUMINUM BODY
| Model | d (mm) | D (mm) | L (mm) |
| --- | --- | --- | --- |
| CSF6 | 185mm | 512mm | 192mm |
| CSF8 | 236mm | 564mm | 192mm |
| CSF10 | 283mm | 612mm | 192mm |
| CSF12 | 334mm | 665mm | 192mm |
| CSF14 | 386mm | 719mm | 192mm |
| CSF16 | 438mm | 776mm | 195mm |
| CSF18 | 469mm | 807mm | 195mm |
| CSF20 | 519mm | 862mm | 195mm |
| CSF22 | 570mm | 910mm | 195mm |
| CSF24 | 618mm | 960mm | 195mm |
| CSF26 | 670mm | 1020mm | 195mm |
| CSF28 | 719mm | 1084mm | 198mm |
| CSF30 | 770mm | 1134mm | 198mm |
| CSF32 | 830mm | 1194mm | 207mm |
| CSF36 | 924mm | 1296mm | 214mm |
| CSF42 | 1077mm | 1468mm | 216mm |
| CSF48 | 1248mm | 1646mm | 216mm |
Standard Supply:
Machine
Driven motor
full set expanding blocks
3 pcs tool bits
(1 Facing tool, 1x30deg. Beveling, 1×37.5deg Beveling)